First the Facts
Michael Vernon Greenwood was born under the sign of Aquarius at the family home in Potters Bar, England on February 13th, 1951. His father was a Yorkshire engineer and the son of a self-made textile entrepreneur, and his mother a Cumbrian farmer's daughter.  
His parents were restless souls, and much of Mick's early childhood was spent on the move. A month before his 12th birthday, the family emigrated from the leafy London suburb of Thames Ditton to the small rural town of Halifax, Pennsylvania, situated twenty miles up the Susquehanna River from Harrisburg, on the edge of the Alleghenies in Iroquois Indian territory.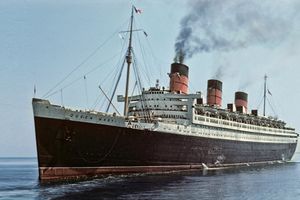 Across the Pond
"

I remember standing on deck of the Queen Mary ocean liner, passing Ellis Island heading for NYC's docks in heavy January snow. It was the winter of '63, and I'm sure the culture shock of moving continents would prove to be my saving grace. The transition from a series of regimented, sometimes barbaric English boys prep schools to American High School was liberating in more ways than one. There were girls for a start, which put a whole new tangible perspective on things despite lifelong complications I've had with the fair sex. The Beatles were breaking news, it was a good time to be an Englishman in America. Driving to school on a Cinderella license in a six and a half litre Pontiac GTO with a girl by your side and gasoline costing 30 cents a gallon…. that was the States in the Sixties. So was, the Cuban Missile crisis, the assassinations of the Kennedys and Martin Luther King, race riots and of course the war in Vietnam. "
Music Education
Musically, Mick was predominately self-taught, and found an affinity with the piano at around 4 years old, and at 14 was given a Kent electric guitar with a Sears Roebuck amp. After an initial disappointing cacophony, the guitar stayed in its case until Mick broke his right wrist on the wrestling mat at high school.  
Wearing a cast, but still able to hold a pick between his thumb and index finger, he decided it was time to pick up the guitar and teach himself a few basics. With practice he started writing songs, and  formed his high school band, The DearSirs.    
"

Making music, writing songs and playing to people was such a carefree time in retrospect. Crazy rehearsals in bizarre locations getting the band together, then off to gig. I'd collect the money, pay the guys, then throw my share of dollars on top of an old trunk in my bedroom. Whenever I went on a date, I'd just grab some of the crinkled notes in my hand, and stuff them into my jean's pocket without counting how much was there, and head out. Usually worked out fine. (The Cinderella license proved more of a problem!)"
— Mick
Gap years were hard to achieve in 1968 due to the Draft and the war in Vietnam, so after graduating from Halifax High, Mick got accepted to Dickinson College in Carlisle, Pennsylvania, ostensibly to pursue a career in law. Becoming more prolific as a songwriter, he played with several bands (including Charlotte's Web) as well as performing solo in clubs further afield like New York's Bitter End.
Dickinson's liberal arts environment balanced the artistic with the academic... studying drama alongside philosophy and physics. Mick had keys to the darkroom, access to the music department and the art studio. Painting, music and photography seemed to enhance each other, and provided light relief from three 8 o'clock physics classes a week!
The Tape
"

One evening I went into the music department armed with my much-loved Martin D12-35 and sheets of A4. The room had a very basic reel to reel tape recorder and one microphone that recorded my vocal and at the same time picked up the sound of the guitar together with my bare feet keeping rhythm on sheets of A4 paper. No overdubs or retakes, just a crude tape of my songs. I didn't know at the time how important this tape would become. I drove the 200 miles to New York City with my girlfriend Nancy and dropped off the tape at Columbia Records A&R Department. I didn't have an appointment and the tape was the only one in existence. A few weeks later the phone rang, and it was the legendary John Hammond of Columbia Records calling to arrange a meeting. Sweet dreams are made of this! In my ignorance, I didn't know who John Hammond was, but he was to prove instrumental in launching my recording career and to be an incredibly important figure in my life. It's worth noting that at this stage I didn't have a manager, lawyer or entourage of hangers on. They would, however, manifest themselves later!"
— Mick
Signed, Transferred & Released
In 1970 Greenwood was returning to England to take up a planned third year abroad at Exeter University and Exeter College of Art. John Hammond arranged a meeting with CBS London, and Mick was signed on the spot. Recordings of LIVING GAME, Mick's highly-acclaimed first album, began at CBS Studios, and half way through, David Howells (Stock, Aitken and Waterman) who had done the actual signing became head of A&R at MCA Records in London, and negotiated taking Mick with him to MCA to be one of their major new signings. 
The album was completed at Sound Techniques in Chelsea (the famous recording studio where Nick Drake & John Martyn recorded their best works along with Cat Stevens, Fairport Convention, Jethro Tull, Pink Floyd and others.)
The sessions went so well that the celebrated musicians involved became his backing band on the road, Jerry Donahue, Pat Donaldson and Gerry Conway, along with keyboards/arranger Tony Cox. Other contributors were Fairport's Dave Pegg and top jazz musicians– Karl Jenkins, Bud Parkes, Derek Wadsworth, Lynn Dobson, and Dudu Pakwana.   
MCA hired The Commonwealth Institute in Kensington as the reception venue, and the highly acclaimed LIVING GAME album was released throughout the world to great reviews, and among other accolades became Cashbox's Import of the Week. Despite some comparisons, the consensus was Mick had a range and originality of his own.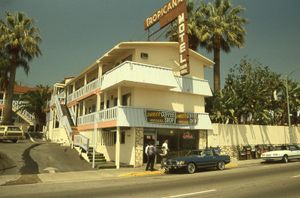 Warner Brothers, The Old Bailey & Glass Coffee Tables
Florida, Family & The Company Store
Eureka, Divorce & Pushing Buttons
Film, Television & Travel